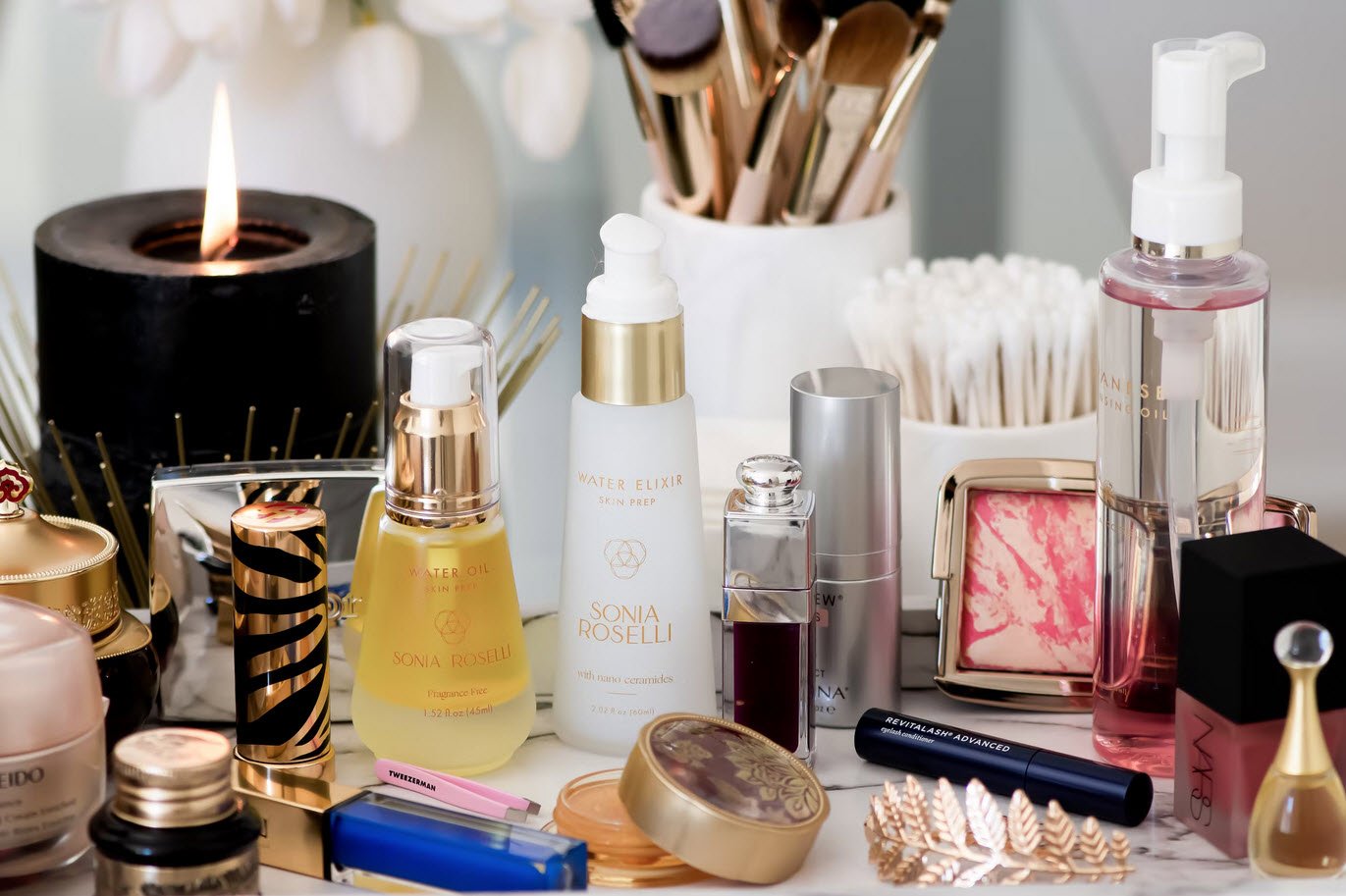 As a makeup artist, it is highly important to create a makeup "kit" that will serve as your toolbox for your bridal and special occasion makeup business. Because of germs and sanitation, it is not wise to use your personal makeup on a client.
Instead, you will want to gather special makeup, tools, skin care and accessories to use specifically on clients for your bridal and special occasion makeup business. You will need to be strategic about which products you pick up for your kit, to ensure you will have makeup that works for every skin type, makeup look or colour tone. Keep in mind that as your business grows, you can continue to grow your makeup kit and build your products.
Also Read: Important Things To Know When Doing Makeup For Photography
Here we'll share a few of the basic options for building out your makeup kit for your bridal and special occasion makeup business.
Kit Essentials
Obviously the basis of your business will come down to the makeup application, so it is important to have some essential makeup and skin care items in your makeup kit. You will want these items to be versatile, and as universally flattering as possible. Here we'll break down a few suggestions for skin care, face, eye, lip, cheek and eyebrow makeup items.
a) Kit Essentials – Face Makeup
When it comes to creating your makeup kit, face makeup will require the most investment to ensure you have something for every skin type and colouring. You will want a full range of colours in your kit, or products that can mix to create a custom colour for your client.
Foundation – If looking for a universal option, there are some palettes that contain a variety of foundation colours that you can use for nearly any client. You can also pick up a few key colours and finishes, and plan to mix them to create a custom formula for your clients. Find a few foundation formulas in each finish, and pick up a variety of shades that could work on a large number of clients.
Concealer – Similar to foundation, you will want to have concealer in a few different shades. It is much more common to find concealer palettes, which often contain a number of flesh toned colours and a few correcting shades. These palettes will offer you options for a variety of clients and help minimize the number of individual concealers you would need to purchase.
Powder – Pressed pigmented powders are not as easy to mix colours, so it would be wise to pick up either a palette or a few individual pressed powders to use on your clients. The most universal option will be a translucent powder, which does not need to be colour matched to any specific skin tone.
b) Kit Essentials – Eye Makeup
For eye makeup, it will be important to have a variety of eyeshadows for each eye look. When starting out, eyeliner and mascara are areas that you can easily pair back on to keep your kit minimal in the beginning.
Eyeshadow – When it comes to eyeshadow, you will first want to focus on having key neutral tones in a matte or satin finish. These will be your most commonly used eyeshadows, so you will want to first invest in these options. After you've built up your neutral colours, you can then venture into more of the bold colours to supplement your kit. Many companies offer eyeshadow palettes, which can give you a large variety of eyeshadow options in an easily portable format. Especially when starting out, it's important to remember that you don't need every colour and finish out on the market.
Eyeliner – Here is an area that you can scale back on, since this may come down to personal application preference. For eyeliner, you will definitely want to have a black and brown pencil eyeliner as your basic for waterlines and more smoky lash lines. You will also want to have a black and brown option in either a gel, liquid or felt tip liner. These will be your most commonly used products, so this will be a great place to start your kit.
Mascara – For mascara, you will primarily use disposable applicators to apply mascara to your client's lashes. Because of this, you really only need two versions of mascara – a regular formula and a waterproof formula. Most clients will want black mascara, so this will likely be the only colour you would need when starting out.
c) Kit Essentials – Lip, Cheek & Eyebrow Products
For lips, cheeks and eyebrows, there are a few key products that can help you round out the makeup in your bridal and special occasion makeup kit. Using your knowledge about the different product options, finishes and colour palettes, you can make strategic choices about which products you keep in your bridal and special occasion makeup kit.
Lips – When it comes to lip products, there are countless options for formulas, finishes, colours and more. The product most commonly used will likely be lipstick, so it will be helpful to pick up a few neutral colours and a few bold colours that could be used on a variety of clients. For lip liner, if you have some neutral colours in your kit you can use these for a number of lipstick colours as a "your lips but better" colour. Lastly, if you're looking for a gloss that will work for a number of lipsticks you can pick up a clear gloss to add shine to the lips.
Cheeks – For an easy way to carry a number of flattering blushes, picking up a blush palette can be extremely helpful for your kit. If you pick up individual shadows, find ones that you expect to be flattering on a number of skin tones and makeup looks. Similarly, there are a number of high quality contour kits that have both bronzer and highlighter for an array of skin tones. You will be most likely to use matte bronzers for contouring, so having a few shades of matte bronzers will be helpful to use for both warming the face and creating definition.
Eyebrows – Brow products can range for each individual, so you may need to carry both pencil and shadow brow products. By choosing a few strategic matte eyeshadows you can use them for both brows and eyeshadow. Additionally, having a few brow pencils can allow you to create a custom colour for any eyebrows. Lastly, having a clear brow gel to set the eyebrows will be helpful for any client.
Tool Essentials
Now that you've put together the makeup in your kit, there are still a number of tools that will be essential for maintaining sanitation and ease of application. Many tools assist with applying the makeup, and allow you to complete the entire makeup look easily. Similarly, there are many tools that allow you to maintain sanitation and easily work on a number of clients using the same makeup products.
a) Disposable Applicators – Of all the essential tools, disposable applicators will be the most helpful for you as you work on clients. Specifically, for mascara and lip products, disposable applicators are essential to ensure that your makeup products in your kit do not get contaminated.
b) Palette – A sanitized palette is an extremely helpful tool to help apply many liquid and gel products onto your client. Liquid products should not be applied onto the back of the hand or even directly onto the brush when working on other people, as it is less sanitary and can spread germs within your makeup palettes.
Additionally, palettes are excellent for mixing products to create a custom formula or shade for your client.
c) Brush Cleaner – Especially when applying makeup on a large wedding party or group, brush cleaner will be extremely helpful in quickly cleaning brushes between uses. Whether you're using the same brush in multiple colours or on different clients, it will be helpful to quickly clean your makeup brushes to allow them to be used more frequently.
d) Rubbing Alcohol – Rubbing alcohol is excellent for killing germs and sanitizing items. It is important to have rubbing alcohol readily available in your kit, as it is the best way to sanitize lipstick, tools, etc. Additionally, rubbing alcohol is a great way to clean your space to keep things clean and germ-free.
e) Brush Roll – To help keep your brushes organized and easily accessible, a brush roll will be a helpful tool. In addition to holding brushes, a brush roll can also be a great space to hold other tools like your palette, tissues, etc. Brush rolls will keep your tools at your fingertips, and make applying makeup on your bride or client much easier.